EXCLUSIVE BONUS BUNDLE
With so many second-rate Stainless Steel tumblers available on the market we wanted to set ourselves apart from the competition! Presenting the Beast Bundle: 1 Pure 18/8 food-grade stainless steel curved straw & 1 Closable Sliding Spill Resistant Shatterproof Crystal Clear BPA Free Lid, all presented in a beautiful Gift Box.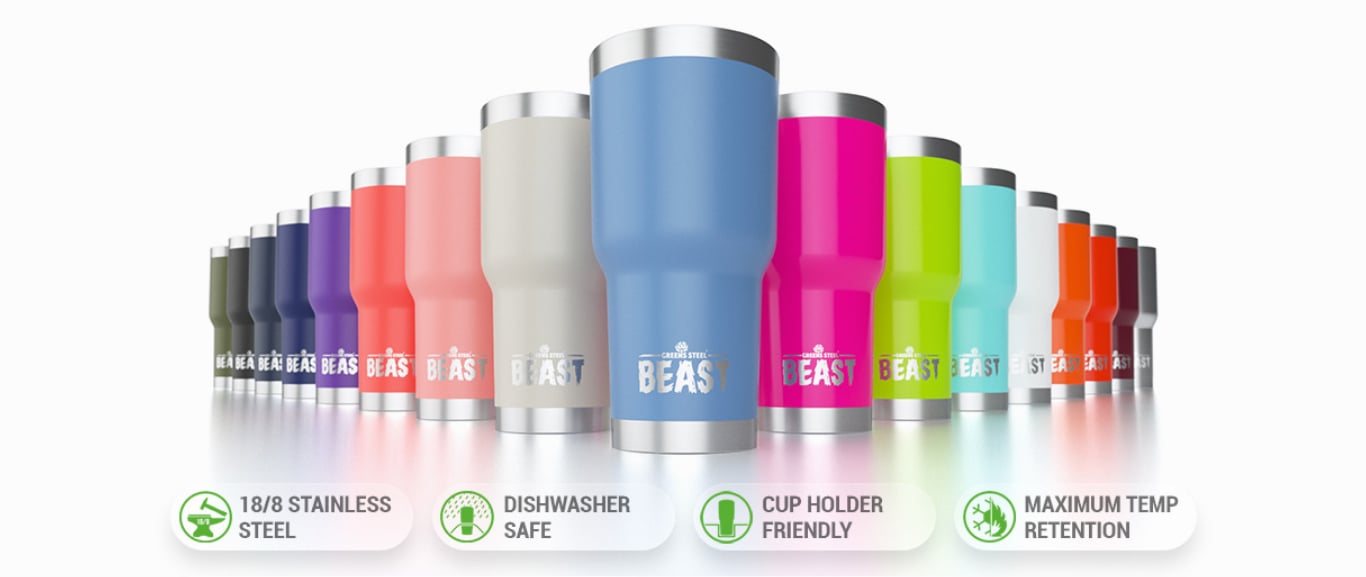 MAX INSULATION & TEMPERATURE RETENTION
Over engineered and tested against Yeti and other leading brands. Our Tumblers match performance all day long and with our spill resistant closing lid, you can keep your drinks insulated and protected for longer. 
SUPERIOR FINISHING INSIDE & OUT
Sweat Free, Vacuum Insulated, 304 Food Grade Stainless Steel Polished on the outside for a superior brushed finish & Electropolished on the inside to ensure your cups remain rust-free, giving you a clean tasting drink every time! 
Tritan plastic is a shatterproof plastic that is extremely durable. This type of lid is tough and will last you a very long time. Isn't that the point of a reusable tumbler? To reduce as much as waste as possible? You need a lid that will last! 
Superior Material & Finishing
Super robust, double wall vacuum with copper lining for maximum insulation! Crafted with 18/8 food grade steel with a superior non fading coated finish for maximum durability!.
Sleek Gift Box
The BEAST bundle comes complete with a beautiful gift box - 100% plastic free and fully recyclable. A perfect memorable gift for you and the VIPs in your life :-)
Easy Clean Splash-Proof Lid
Upgraded design, made from Unbreakable Shatterproof BPA-Free Tritan plastic. Easy opening to access your beverage and keep splashes at bay
Reusable 18/8 Steel Straws
1 Wide straw perfect for smoothies & Shakes + 1 Curved Straw for all your other drinking needs. Free straw brush included too!.